This sidebar is designed to be read in context with the article series. Please refer to the following installments should you need further information or explanation.
Note: Eastman Chemical is also the manufacturer of MCHM, the chemical in the huge West Virginia river pollution incident. The company has been accused of inadequate testing of that chemical and deliberately downplaying its toxicity in official documents. For more, see: MCHM could be more toxic than reported, new study says.
---
By Lewis Perdue
Emails filed in Eastman's court case against PlastiPure/CertiChem demonstrate how its executives mislead Whole Foods and stonewalled the Thermos company about Estrogenic Action of the Tritan Plastic.
Defamation And Broken Promises Fool Whole Foods
An Eastman sales "call report" from a meeting with Whole Foods offers stark evidence that the big chemical company was willing to mislead potential customers and engage in legally actionable defamation of a competitor to get the sale.
The memo, dated May 11, 2010, summarizes  the Eastman meeting with Whole Foods Executives
Clay Odom, Vice president of sales,
Bart McKnight, natural products category manager
Errol Schweizer, the national grocery buyer
John Burns, senior coordinator, product safety
Eastman sales exec Fred Calhoun and senior toxicologist Emmett O'Brien were joined by unnamed sales people from Trade Fixtures, a manufacturer of bulk product sales bins in grocery stores and other food outlets.  Trade Fixtures has gone for Tritan in a big way and promotes the "EA-Free" advertising claim that multiple labs have found are not true.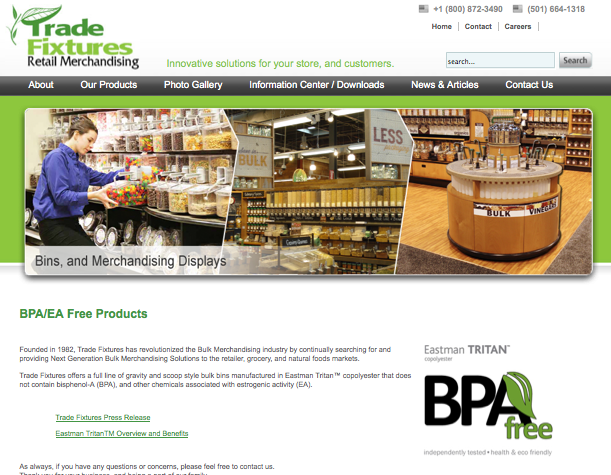 ---
This ad-free article is made possible by the financial support of the
Center for Research on Environmental Chemicals in Humans: a 501(c)(3) non-profit.
Please consider making a tax-deductible donation for continued biomedical research.
---
The purpose of the sales meeting was to convince Whole Foods that they should replace their polycarbonate bulk foods bins (which leach BPA) with Eastman's Tritan.
The memo, Eastman, Whole Foods, Trade Fixtures Sales Call Report, written by Eastman's Fred Calhoun is worth reading in its entirety, but the main points (all direct quotes):
NOTE: You can enlarge all images by clicking on them
"TF [Trade Fixtures] realized our [Eastman's] EA story is key to getting WF's [Whole Food's] business. [Abbreviation definitions added].

"They asked if there was any contradictory evidence [on Tritan EA-Free]– I said plastipure/certichem but also mentioned their results are very questionable."
"WF called Bittner [PlastiPure/CertiChem founder] a mad scientist.
"We joked and pushed and I flat out said the guy [Bittner] was 'shady.'

"They asked if Eastman would be able to provide documentation that we did not fund any of these labs [That Eastman paid to conduct its studies]. I mentioned that we did not and they were happy with the answer."
Eastman never sent the promised documentation to "prove" they had not funded the studies. They could not because the documentation did not exist.
Legally Actionable Defamation
The author of this article co-taught a course at Cornell University on mass media law.
Legally actionable requires: defamation, dissemination and identification.
Defamation
Defamation can be defined in a multitude of ways, but calling someone "shady" (dishonest) or a "mad scientist" (implying incompetence) are two ways.
Dissemination
Defamation can be oral (slander) or published (libel). If the defamation was closely held (a private opinion), then dissemination is questionable. It's much clearer when widely disseminated (such as a broadly circulated memo).
Identification
The final test is whether the defamed person has been identified either by name or in a way that clearly marks them as the person referred to.
Stonewalling Thermos
Eastman Chemical lawyers accidentally "scored an own goal" when they filed a request to use customer emails in their court case against PlastiPure/CertiChem.
The Eastman document (pdf) stated that the emails would help it prove its case that the PlastiPure/CertiChem brochure had damaged the chemical company's sales of its Tritan Plastic. (A contention the judge later rejected.)
Rather than proving damage, the filing revealed Eastman executives stonewalling one of its customers — Thermos — and failing to deliver the customer's demand that Eastman give a "true or false" answer about Estrogenic Action of the Tritan Plastic.
Oct, 15, 2010 – Thermos Exec Asks Eastman For rebuttal of PlastiPure Brochure
Thermos R&D Manager Marvin Lane wrote to his Eastman contact, Vasilios Smith asking, "Do you have anything to rebut this from Plastipure?"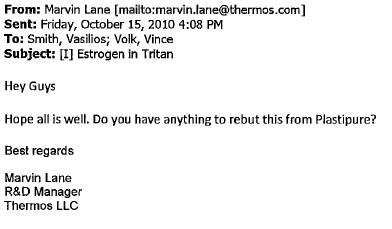 (Click here to view the rest of the PlastiPure/CertiChem brochure.)
Oct, 18, 2010, 9:46 a.m. – Thermos Exec Gets No Response, Writes Eastman Again

Oct, 18, 2010, 4:09 p.m. – By The End Of The Day,Thermos Exec Gets No Response, Writes Eastman Again
"I suppose what I am looking for is something saying 'those guys are lying". Are their claims regarding Tritan True or false?"
Oct, 18, 2010, 4:48 p.m. –  Eastman Responds, Ducks The "True False" Response That Thermos Demanded

Forced into making a response, Eastman exec Vasilios Smith responds with a vague, nuanced reply that avoids answering the Thermos question for "True/False." The references are to the covert, biased data examined in parts 2 and 3 of this series.
"We are very confident in the third party testing … we will not be commenting on testing or claims by anyone outside of Eastman at this time."
Oct, 18, 2010, 6:58 p.m. – Annoyed Thermos Exec Says Will Pass Along Eastman's "Non Comments"
 Eastman Exec Tries Not To Leave an Evidence Trail
The nuanced non-response to the Thermos question appears to be a continuation of Eastman's goal of not providing evidence of a permanent form that might be used against it.
A Nov. 4, 2019 email from Eastman exec Chril Killian to multiple recipients stated, in bold: "It would be best to ask questions or discuss this issue by phone or in person…."